(Tambien en espanol)
There are only two places to see in Ecuador. One is Galapagos and another is Banos. If you don't have time and money to go to Galapagos I recommend that you go to Banos for a few days.
Besides Ireland (which I went in 2016) I've never seen so much greenery anywhere in the world. Banos is green. It gets so much rain during the winter season as it is located on the eastern slope of the Andes Mountain. I was there in late March. Everywhere I look it was painted in green.
Banos is the defacto adventure capital of Ecuador. Activities that you can experience include hot springs, bungee jumping, white water rafting, canyoning, zip-lining and even a swing at the edge of the world. I chose to do a few adventure activities – Canyoning, Zip-lining and the cheap and tacky swing.
Another popular solo activity to do in Banos is to bike the waterfall route (Ruta de las Cascadas). The bike route from Banos to Puyo (where it ends) is about 61 kilometers (37 miles). Now I've done many bike rides in my life and this definitely lands in the top 5 of my list. The route starts after the bridge outside Banos center. You pass by a dozen waterfalls ranging from small to big. You can choose which one to stop by. Some are steep and require more walking to get to the base of the waterfall.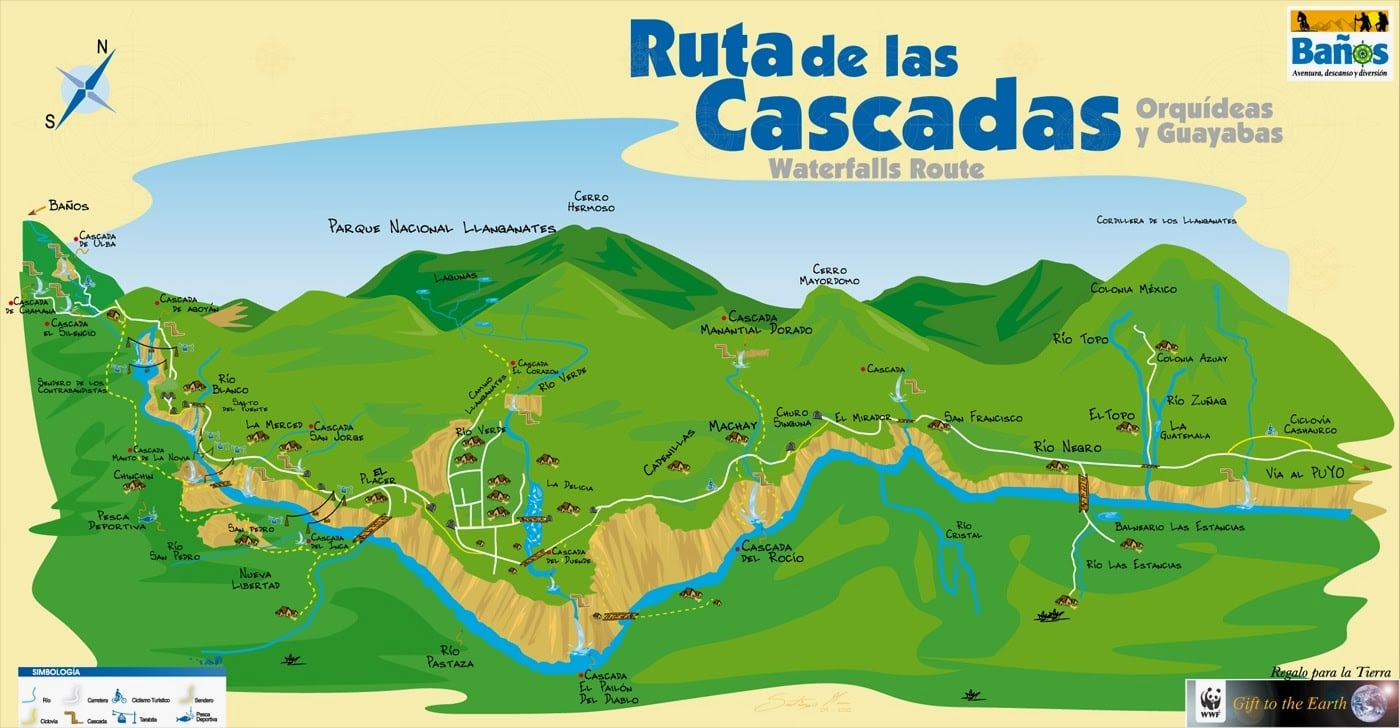 Bike rentals in the center costs around $5-$7 (circa 2017). Get a helmet and a map from the bike shop and you are off to a great ride. I was lucky the day I did the bike ride it rained a bit. Rain made the waterfall look more flush with water. Although the wet stairs made the climb more difficult.
A couple of waterfalls worth visiting in the route – Manto de la Novia (Bride's Veil) and El Pailón del Diablo (Devil's Cauldron). Once you get to the Pailon del Diablo you can hitch a ride back on a truck. It costs $3. Also while you are waiting for the truck to get filled lunch there is really good.
When you start the bike route you go through a tunnel. Just off the tunnel you will see a big billboard ad about the longest zip ride in Ecuador. I recommend doing this if you are not afraid of heights. It only costs $10 for a round trip. The length is about 1Km. You go across a valley with a waterfall one one side. It is spectacular and scary at the same time. But it is nothing compared to the zip-line rides I have taken in Laos.
Another activity to do is Canyoning. There are many tour agencies that can arrange the trip for you. It is easy, fun and adventurous. But prepare to get wet.
Deep in the Andes wilderness there is this swing that sits on the edge of a deep valley. This place is a seismic monitoring station known as Casa del arbol. They are a few swings where you can re-enact your childish play.
Check out the video I did while ziplining across the 1km valley,